{Reported by
Emilie Ahern
}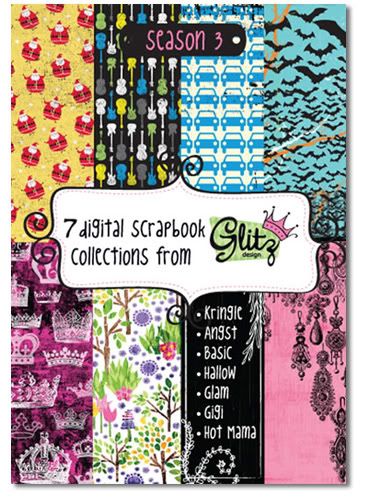 Three years ago I took the leap into digital scrapbooking as training for my job. Before then I had had an almost snobbish (
and popular
) feeling about paper scrapbooking being highly superior. And while I still love the hands on options of paper scrapping, I do about 20% of my pages digitally and have come to appreciate some of the amazing possibilities that only digital scrapbooking can offer.
The objection that many have to digital scrapping is that it doesn't look "real" and that they cannot find products that are comparable to the paper lines they love. Someone recently commented to me that she might start digital scrapping if
Basic Grey
would make digital lines. I agree that they should...whole-heartedly! And while
Basic Grey
has not crossed over yet, a few companies have.
The first company I came across during my research was
Glitz Design.
I happened to be looking for a certain roller stamp that they make and saw their digital lines in the scrapbook.com superstore. They have a number of different collections available that they also carry in paper form. This means that if you are a digital scrapper you can just buy the digital CD's, but the real benefits come in if you are a traditional of hybrid scrapper. Because they offer the lines in both paper and digital you can custom print journaling spots and other embellishments that you know are going to perfectly match your paper layout. Genius!
The CD's come collection by collection, but I prefer to go with the super value pack which at $24.99 is an amazing value. Here is what the
Season 3 - 7 Digital Scrapbook Collection
CD-ROM set holds...
- 4 paper lines (Angst, Gigi, Basic and Glam) with over 42 papers
- 35 Doodles
- 32 Overlays
- 44 Embellishments
- 30 Frames
- 13 Grunge Elements
- 44 Journaling Cards and Spots
- 5 Text Paths
- 30 Word Art Titles
- 3 paper lines (Hallow, Kringle, and Hot Mama) with over 37 papers
- 4 Brush Sets: Doodles and Accents, Frames and Flourishes, Grunge, and Overlays
- 30 Holiday Embellishments
- 14 Holiday Word Art Titles
+ Bonus Digital Scrapbooking Templates
AMAZING. If you have digi scrapped at all, you know what a bargain this is. So here are some projects I made to show the versatility of these amazing CD's. Click on any of the images to make them larger.
PROJECT 1:
100% Digital layout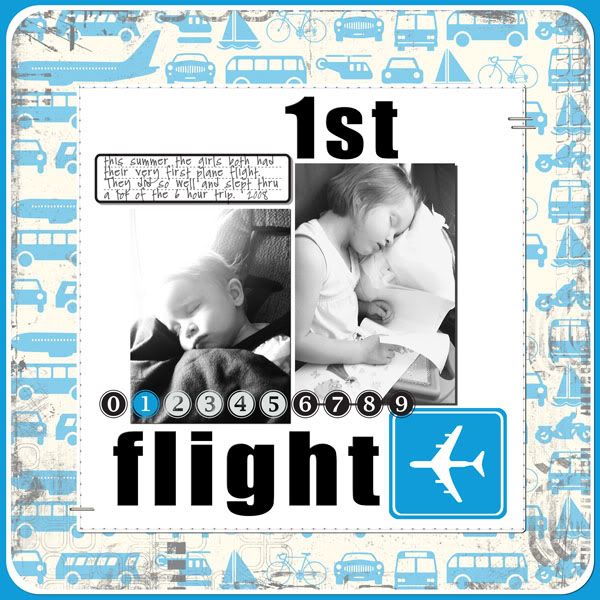 Products All products from BASIC digital collection by Glitz Designs, Font: Pea Andrea
Using the very cool BASIC line I created this digital layout. The benefits are obvious. If you have crossed over into digital scrapbooking, but love you some Glitz products they are all right here for you.
Now unto the super fun part. The following hybrid project shows how fun and useful these CD's can be for even 100% traditional scrappers. I'm gonna walk you through this step by step.
Project 2:
Hybrid layout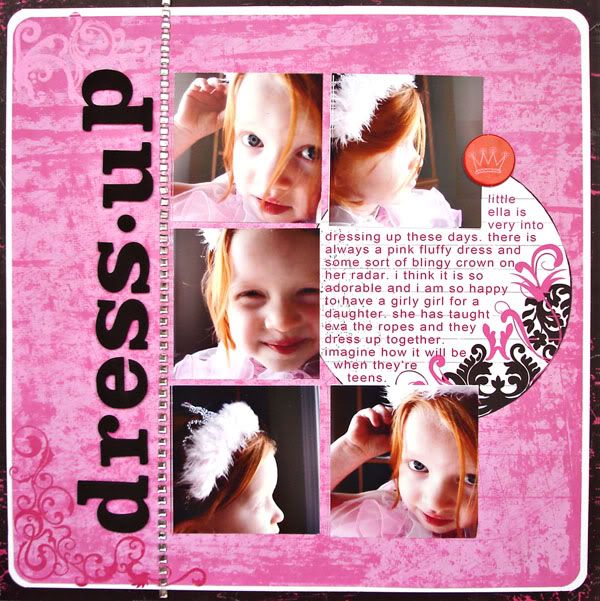 Products Cardstock: WorldWin, Patterned Paper: Glitz Designs (Glam), Bling: Glitz Designs, Rub-Ons: Glitz Designs, Chipboard Circle: Scenic Route, Corner Punch: EK Success, Alphabet Stickers: American Crafts, Journaling Circle: Glitz Digital Collection(Glam), Font: Arial
1. Planning my layout. I love this aspect of these CDs because even if you are planning on making your page mostly paper, you get a few trial runs digitally first. I came up with this basic layout, all sketched in digital.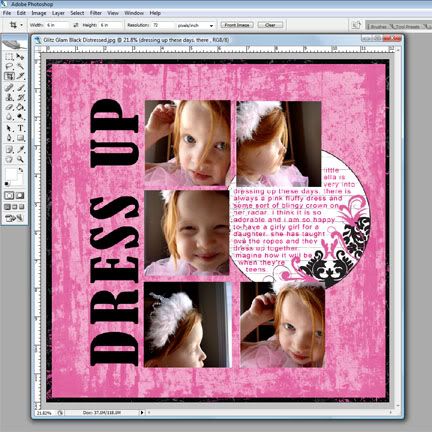 2. I planned on making this mostly paper, but wanted to create the journaling tag digitally. Using Photoshop I started with just the blank tag from the CD which looked like this.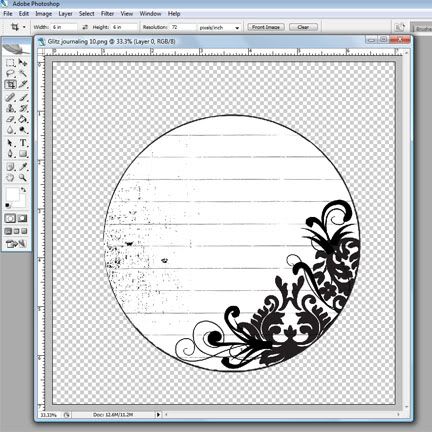 Then I used the magic of Photoshop to hand color a few of the swirls to add interest and match my mainly pink background paper. I then added my journaling and was able to type it around my photos.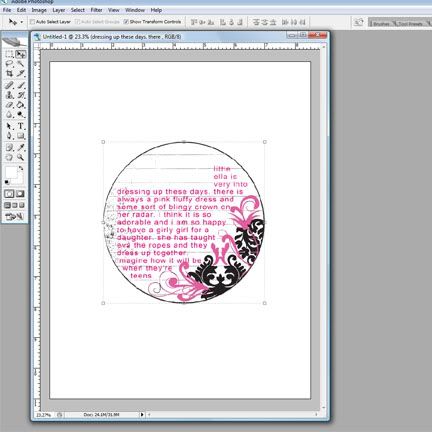 3. Then I printed the photos on photo paper and the journaling tag on white cardstock. I then assembled my page using real products from Glitz and added my finished journaling block. It fit perfectly and, of course, the color matched perfectly.
Project 3:
Digital Template
This Collection also comes with 3 digital templates and full, step-by-step instructions on how to use digital template. They are a snap. I made this layout in probably 15 minutes flat since it was all laid out for me. Here is the template as it comes...

And here is my finished layout:


Products Template: Glitz Designs Template No. 22, Lined Cardstock: Paislee Press,
Patterned Paper: Glitz Designs (Kringle), Font: Garamond
Glitz Digital Collections
Cost: $25.00 for CD-Roms including 6-7 Collections.
Buy them at:
scrapbook.com
,
HSN.com
,
amazon.com
What I like:
- Great value for the cost.
- Digital CD's don't take up any space on your hard drive.
- Perfect for digital as well as hybrid scrapbookers.
What I didn't like:
- I'm not a scrapbooker who is into grunged and distressed papers. These CD's came with grunge and distress overlays, yet a lot of the papers were still pre-grunged. I would have liked it if all of the papers were free from any distressing and then those who wanted that look could apply one of the included grunge overlays.
What do YOU think?
Do you like the idea of paper manufacturers offering their same releases in digital? Could you see yourself using these to create hybrid layouts if you are currently a paper only scrapper?
*For more information on digi scrapping see our article
Digital Scrapbooking - The Basics.

Leave a comment here by Noon EST tomorrow (Saturday)
to have a chance to win
Season 3
of
the Glitz Digital collection
used to make these projects.