Taken from the
SCRAPBOOK UPDATE
site...
Yesterday, Memory Makers Magazine issued
a public statement on their message board
confirming their plans to shut down after the Sept/Oct. 2009 issue.
The statement, issued in the name of F+W Media Crafts/Genealogy & Special Sales Vice President Teri Mollison, indicates that the company is canceling the Memory Makers Masters contest as part of the magazine's shutdown.
The passion and dedication of the Memory Makers contributors, advertisers, vendors, staff, and readers these past 13 years is what has made this business so rewarding for those of us fortunate enough to publish the magazine. Sadly, in light of increased industry consolidation, severe advertising cut backs, poor economic conditions, and lack of new consumers coming to the hobby, we cannot continue to profitably publish the magazine on- or offline. As we work to bring this last issue to closure, however, I want to take a moment and thank you for your role in crafting the Memory Makers story. The beautiful thing about this magazine is that it has memorialized the scrapbookers and scrapbooking companies forever that really launched this exciting hobby. We are proud and thankful for that heritage.
The company's Memory Makers Magazine website will continue in operation, as will the Memory Makers Books publishing imprint and their Great American Scrapbook Conventions.
.......................................................................................................................................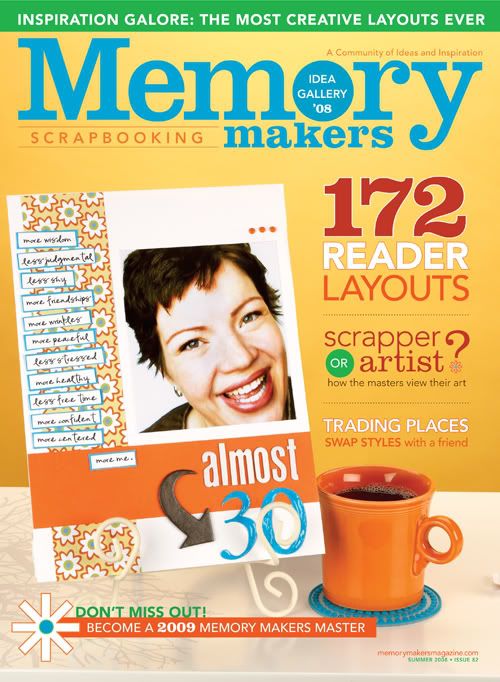 The Scrap Review staff is so sad to hear this news. Memory Makers was the first magazine to feature a layout of mine on their cover and it was one of the most thrilling things that has happened to me.
Truly, this is an interesting time for the scrapbook industry. In the coming year it seems that all we can do, as scrappers, is watch and wait. It's no secret that in a failing economy non-essentials are the first to go. But we participate in a hobby that, to many of us, is so much more than a
hobby
. And that makes the continuous decline of scrapping magazines, failed LSS's and struggling manufacturers a sad, and sometimes heartbreaking, slide.
The Scrap Review wants to thank all involved with
Memory Makers
magazine for their hard work, dedication and passion.
.
.