{reported by
Mindy Miller
}
I am excited to join The Scrap Review and bring you my first review!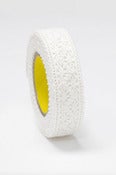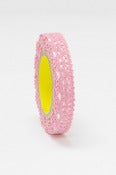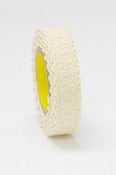 I had the opportunity to try a new lace tape product from
Love My Tapes
. The company offers rolls of self-adhesive lace in a variety of colors and styles. The lace ranges from 12 mm to 21 mm wide depending on the style and the basic colors are white, beige, black, and pink.
If you have ever wanted the look of lace on a project, but stru
ggled with a way to affix the lace, this is a product you may want to co
nsider. The self-adhesive feature makes it easy to apply lace to virtually any type of craft project -- from scrapbooking to altered art -- without the struggle of getting it to stick or stay in place.
Using this product is as simple as cutting the desired length of tape, peeling off the backing, and sticking it in place. The lace tape easily peels away fro
m the backing and the adhesive on the back side is evenly coated with adhesive. Although the adhesive is sticky, the lace tape can be applied and slightly readjusted if necessary.
What I liked:
- This is real lace. It is not paper tape cut in a lace design.
- You can't beat the self-adhesive feature. That is what really sets this product apart.
- The basic and neutral colors can be used on a variety of projects. You can also customize the white lace with mist or ink.
- There's quite a bit of lace on every roll, so I didn't feel like I was going to run out in the midst of a project.
What I disliked:
- Consider this your warning...your fingers will get sticky! And so will your scissors or hand held needle. However, I was pleasantly surprised that the adhesive did not seem to stick to a sewing machine needle.
- After cutting the tape, the edges on each end can fray. To minimize the fraying, I used sharp sewing scissors to cut the tape. I also left a little extra lace on each end and trimmed the ends after applying the lace.
- Even though the variety of styles is a benefit, the ornate design of some styles might not be a fit for your project.
What I made:
Supplies
Cardstock: Bazzill - Patterned Paper: Sassafras, October Afternoon - Buttons: Studio Calico - Fiber: Karen Foster - Embellishments: Elle's Studio - Pen: American Crafts - Lace: Love My Tapes - Other: vintage typewriter, sewing machine
On this layout I used the lace tape to make flowers. I simply cut a length of tape and folded the ends to the center of the tape. After the tape was adhered to itself I stacked the folded pieces of tape together to create flowers embellished with a button in the center.
I also used the lace tape as a border for this card. The tape is directly applied to the card.
Supplies Card base: Canvas Corp - Patterned Paper: Crate paper - Tape: Love My Tapes - Punch: Fiskars - Buttons: Crate Paper - Chipboard: My Mind's Eye - Other: machine stitching
Where and How Much:
Product Name: lace tape
Manufacturer: Love My Tapes
MSRP: $8.00 per roll
Available at: *Love My Tapes
All-in-all, this is an innovative product that solves the issue of getting lace to stick to a project without a lot of heartache. Personally, I'm not sure that I would use it often with my style of paper crafting, but I can see others falling in love with this product. It is definitely a unique product that I will be glad to have in my stash of crafting supplies and I recommend giving it a try.

What do YOU think?
Do you like to use lace on your projects? Leave a comment by

midnight PST Tuesday

to be one of 3 to win: 2
tapes, 2 fabric tapes, 1 fabric sheet, and 2 tape runners as a sticky set! Be sure to include your email so I may contact you if you win!